Year to date 2017
2017 has been, without doubt, the busiest year of my entire career. Eight major projects have come together since early May. Updates will be added, periodically (linked from this page), over the next couple of months. For now, here are two events from July, which took place the same weekend, between the 13th & 16th, in Toronto and Haida Gwaii.
The 'Edenshaw – ReEncounter'
2nd annual youth excursion

The TOAE 'Eyes Of Society' -
Social Commentary Award
EYES OF SOCIETY, The 2016 Braid Films Short documentary, concluded its four month run on AIR CANADA flights at the the end of June, and has now been selected to air at this year's DC Short Film Festival.
Northword film review:

Just as short stories can contain a depth of feeling and a wealth of knowledge, short films can stir emotional response and provoke curiosity.

Eyes of Society sees filmmakers Allison Smith and Joseph Crawford (Braidfilms.com) follow artists W. David Ward, Andrew Sookrah, Anja Karisik, Gary Landon, Sophie Lavoie and April White (Sgaana Jaad) on a 14-day kayak trip to the ancient Haida village of SGang Gwaay in Gwaii Haanas National Park.

You might expect a seven-minute film* covering a 14-day trip to feel rushed. This short documentary is anything but. Its languid pace perfectly reflects the scenes shot: underwater kelp beds in ethereal light, the verdant village site, glassy water punctuated by kayakers.

We hear the artists share their perspectives on the role of art in contemporary culture and through out history, on life and landscape. We see nature, people and of course art—and maybe see these things overlap. Best of all, we feel the slowness and for seven minutes we forget time entirely. And it feels great.
— Matt J. Simmons
* The final cut, with additional material, is nine minutes in length
Northword Magazine March/April Issue No. 67
In July 2016, I was happy to announce the acquisition of my 2014 arctic landscape painting, 'Passage To The Northwest', by "The Crown Collection" - Official Residences of the Governor General of Canada. See images below
Later in the year, the Canadian Museum Association's publication, Great Canadian Masters, was released. Happily, the Crown Collection chose to feature this new work.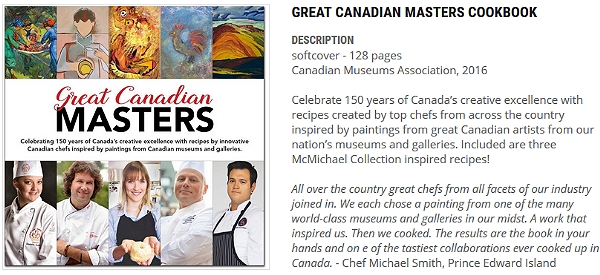 Look inside: Chef Louis Charest shares his inspired recipe.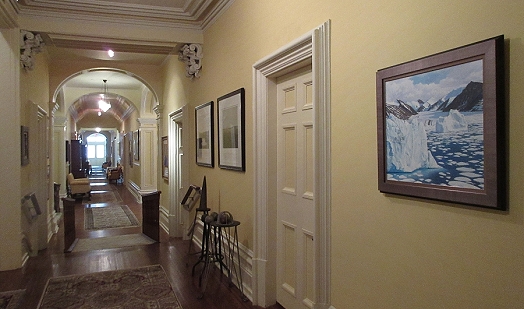 Work in situ: Governor General's residence - Monck Wing, Rideau Hall

Based on my 2013 design of the Royal Canadian Mint 1 kilo gold and silver bullion coins, 'Passage To The Northwest' was gifted by long-standing collectors of my work. This is my eleventh work in a permanent public collection. These will be documented in a future update.
"Passage To The Northwest" - Acrylic on canvas - 19 ⅝" x 22 ⅝"
Since my last Mailing List update, work on my current book has consumed almost all of my time. To that end, much of March was spent in Mexico City and Central Mexico (See the links below). I had hoped I might wrap things up while I was there (which was more a rationale for a holiday in the sun, than a realist expectation). Writing has continued, however, with the addition of two extra chapters (as new material has come to light) but the work is essential complete at this point - Update to follow. I'm looking forward to more time in the studio now, as things have been progressing on the painting front as well. Immediately below are two notable developments: two works selected by Ontario's new Lieutenant Governor, for Her office in Queen's Park, and the acquisition of a large iceberg painting by the Canadian Tire Head Office. Further details can be seen at the bottom of this page.
Office of the Lieutenant Governor of Ontario


Works in situ - The Lieutenant Governor's suite. Queen's Park, Toronto: "Icarus" (silver frame - left) and "Reflections" (black frame - right) Larger pictures of these works, requested earlier this year, can be seen at the bottom of the page.

Recent acquisition by the Head Office of Canadian Tire Corp - July
'Superstructure' acrylic on canvas 30¼" x 46¼"

Looking carefully at this scene, you will notice a remarkable structure underlying the two main elements of the composition. The iceberg is a traveller; adrift between Greenland and Newfoundland. Although there is no direct physical connection between the iceberg and the coastline, defining shapes within this image converge; 'construction' lines, in light and form, extend from one to the other. Painters look for 'harmonies' such as these when they create their compositions, but could this phenomenon reveal something more about the world?


Details of paintings featured above

| | | |
| --- | --- | --- |
| | | |
| "Icarus" - acrylic on canvas 20 " x 12 " | | "Reflections" - acrylic on canvas 40 " x 30 " |

"Icarus" : Emblazon high upon the façade of The Bank of Nova Scotia in downtown Toronto, the image of Icarus puzzled me for a time. I wondered if this might actually be Daedalus, the famous artists/scientist, father of Icarus and builder of the labyrinth in which King Minos locked away his terrible Minotaur. Daedalus, unlike his more reckless son, flew clear of the sun and escaped the island of exile with his life. But no, this was certainly Icarus, heading straight into the sun's rays. Instead of those dowdy old Virtues – Temperance, Prudence, Courage and Justice – which adorn the institutions of the Old World (See: "Mercantile") this, I suspect, is a more 'colourful' reminder of Prudence. Far more appropriate for a young, ambitious, New-World city like Toronto.
"Reflections": The rigid geometry of the upper half of the painting is contrasted with the distorted, flowing lines of the mirrored image. A partial image of the two men appears in one of the pools, tying the halves of the scene together. Nevertheless, the scenario presents an illusion almost of walking-on-water; or, more accurately perhaps, the Old Testament scene of the parting of the Red Sea. The incongruous presence of these figures is slightly unsettling, as though this story is yet to unfold.