May
INTERIM UPDATE:
STS-134
Final mission of the Space Shuttle Endeavour. To see pictures of the April 29th attempted launch, visit my
Photo Album.
All being well, more images will be added soon >
Photos
Please note:
there should be text with the images in the album above, but a technical problem of my own is allowing only the pictures to display. I'm fairly certain it's not a fuel line heater, but I'm on vacation at present so I've left the issue with the someone who should know about these things - You'll be able to follow the general unfolding of events however, pictorially, and for a current update on Endeavour, check the NASA page:
www.nasa.gov/mission_pages/shuttle/main/index.html
LAUNCH SCHEDULES: www.nasa.gov/missions/highlights/schedule.html
Since the January update, until very recently, images for my next calendar have kept me busy at the easel. The deadline for my 2013 collection was late March (That isn't a typo by the way, 2013 is the year I'm working on at present, 2012 is already printed, and is being shipped as we speak). Since I had so many last minute inquires late last year (after 2011 was no longer available) I'll send out an early reminder this season, so that you'll be able to find 2012 in stores before it is sold out. If you didn't manage to find a calendar for 2011, the images are posted in my photo album: Cottage Country Calendar
With this past couple of months being such a rush, the latest update is limited to just eight short stories, background to eight of the ten paintings that hang on the walls of my own home. As mentioned in the last update, after 22 years of painting, only twenty some paintings remain unsold (That number changes constantly of course - "Rush hour in Resolute" and "The Construct" both sold quite recently). Other available works can be seen at Loch Gallery in Toronto, and, if you follow the links below, I'm sure you'll enjoy the paintings from my own collection. There are additional photographs on each of these pages, so please enjoy, "The paintings that never left home!"
I am happy to say, the painitng Mercantile (which has been posted on the index page of my site for some time now) was recently added to another directory of Photorealist painters – under the heading: "Astonishing Photorealistic Paintings." This is flattering, of course, since I really only consider myself a "representational" or "realist" painter. Though I feel rather like the odd one out on this page (as you will see) the thing that grabbed was the commentary on realism that accompanied the works selected.
I must say though the cityscape images I have been creating in recent years are "recreations." In the way that photographer Jeff Wall creates his images, they are "Staged," except that many of the elements of my compositions are not from photographic reference at all – they only appear that way.

One of the most irksome comments that realist and photorealists receive is: "why not just take a picture?" Once I've nodded, and smiled politely, I go usually go on to explain that photographers, and realist painters alike, choose to present a given image for a very specific reason. And the fact that a painter is willing to spend many, many hours in creating an image, should say something to the viewer.

In the world today, we are inundated with snap shots beyond number and computer enhanced images designed specifically, by advertising agencies and special effects companies, to wow. In the resulting Melee of visual stimulus, subtle images are easily overlooked. As digital cameras have proliferated, along with the technology to share pictures, there is the additional phenomenon of image overloaded. The sheer volume imagery eventually causes the eyes, in effect, to glaze over – until something 'loud' enough, shocking enough or strange enough jumps out. If enough pictures are taken, it is inevitable that something will. But, just because something gets noticed, it is not, in itself, a validation – though proponents of modernist art theory (From Impressionism to Fluxus) will be pleased that the "accidental" has now, truly, come into it's own.
Mercantile, the painting that "Insfyre'' picked up, on the surface at least, seems much like a number of my other "Walking Man" pieces, and conveys a sense of restless activity ... Continues below >>>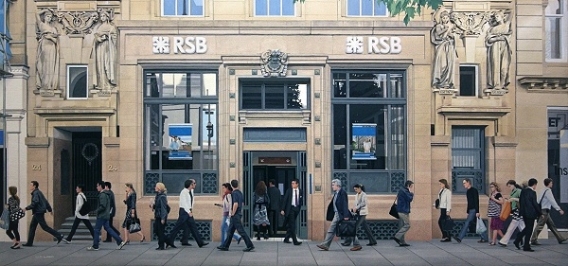 Mercantile - Acrylic on Canvas - 14½" x 30"- 2010
The hustle and bustle of city life. In actuality, this painting was created as a commentary on recent events in the financial world. The fallout from which has touched us all in one way or another.
If you have been to the U.K. you will likely notice the signage over the window in this painting is not quite what you might have expected. I thought it best to not mention the bank by name (though none of this is a secret of course) and the lettering too has been suitably rearranged. The revised logo, however, was recreated with deliberate intention. An effective, and immediately recognizable corporate signature, the inward point arrows of this important banking institution are remarkably reassuring. As you will see here though, I have reinterpreted a little, and the arrows in this logo are directed outward, mimicking another, perhaps not-so recognizable, symbol: Chaos.
"Things fall apart; the center cannot hold." Is an idea that cannot be separated for the symbolism of "The Chaos wheel," and these immortal lines, by Yeats, have seldom being so appropriate. When the entire central banking system seemed about to unravel, the civilized world held its breath. Being from the UK, and because I travel there regularly, I still maintain a bank account at "RSB." So it was particularly upsetting when the recent financial upheaval saw the bank's stock drop by 40% in a single day. Thankfully, the British Government stepped in to stop a run; although, since then, the Pound Sterling has slowly devalued (Against the Canadian Dollar at least).

The title of this painting, despite the immediate connotation (Mercantilism), is a reference to Mercury, the Roman God of commerce and the root of this word – As symbolized by the caducei carved above the door and window. In addition to being a messenger of the gods Mercury is also a Trickster and, through his association with trickery, and ancient elemental forces of course, he is inextricably, connected with the idea of chaos...and so the narrative ties together.
Much remains to be said about this enigmatic and most paradoxical of subjects, but that will have to wait until later...
Many of the images in the two new "Portfolio" galleries – "Trickster" and "Collection" – will appear the book The Journey and the Painter's Muse ( below) and the French River and Killarney pictures , mentioned in the last update, must wait until next time, as I've not yet sorted though my Sept and Oct Images. Nevertheless, I'm working hard to get on top of things and, when we are deep into those cold, dark days of the early new year, you may enjoy a reminder of autumn 2009 - and what lies in store potentially, for summer, 2010.
The catalogue for my 2009 solo exhibition is a 40 page hard cover book which explores the core theme of my work, an idea that has developed gradually over the past 10 years. Juxt-Supposition is limited to just 33 copies, the last few however accompany paintings from this exhibition. A copy can be seen at Loch Gallery in Toronto, please feel free to drop by. New works will be delivered in May.

Currently in production. This publication will be an 80 to 120 page hardcover book covering the past 25 years of my art and travels. It will include material from various trips and exhibitions, approximately 80 of my favourite paintings, along with anecdotes and a rather quirky look at the idea of inspiration itself.
The Journey and the Painter's Muse (Draft cover) will be available later this year - Inquires.
PREVIOUS UPDATES
Snowdon - New Galleries

View images from the two last updates. Snowdon,
climbing in North Wales, June. Four new subject
specific galleries were posted on the Portfolio
page in August, under the following headings:
Arctic - Urban - Landscapes - Commissions
Mexico - Shuttle launch STS131

View images from the two last updates – which includes pictures from a trip to Mexico in February, when I visit San Miguel de Allende for the first time in 21yrs. In 1988 I lived here & began my art career. Also: The launch of STS 131
Eldorado and the American Southwest

To view images from earlier updates – including pictures from a climb in Washington State in the late summer of
2009 & road trip through Arizona, New Mexico Colorado
and Utah – click on either of the following links:
Eldorado - The Southwest